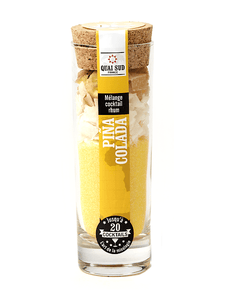 Make your own cocktails at home. All the ingredients you require to make world famous cocktails, just add the alcohol. 
The pineapple and coconut flavors of a Pina Colada will transport you to the Caribbean.
Leave mix to macerate 48 hours in 70 cl of white rum. Filter. Can be enjoyed like "ti'punch": with 1/4 lime. As a long drink: with fruit juice or lemonade. Delicious and light with sparkling water. Dessert tips: delicious with fruit salads, pancakes, flambeed bananas...
Store in a dry place and away from light.
Possible traces of nuts, gluten, mustard, sesame, milk, sulfites, soy.