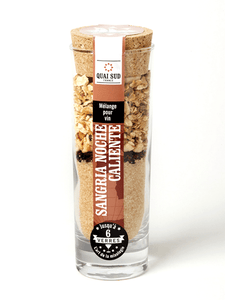 Make your own cocktails at home. All the ingredients you require to make world famous cocktails, just add the alcohol. 
The origin of the name comes from the Spanish word " sangre " which means blood , because of its color. A festive blend , fruity and slightly spicy
Leave the mix to macerate for 24 hours in the refrigerator with 75cL of red wine. Filter. Conservation: up to 7 days in the refrigerator.
Store in a dry place and away from light.
Possible traces of nuts, gluten, mustard, sesame, milk, sulfites, soy.