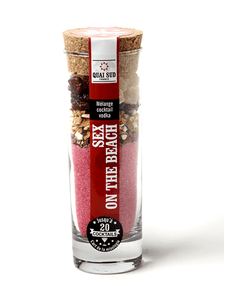 Make your own cocktails at home. All the ingredients you require to make world famous cocktails, just add the alcohol. 
Peachy, tart, and citrusy Sex On The Beach Cocktail is the perfect drink to wind down with after a long day.
Leave the mix to macerate 48 hours in 1L of vodka. Filter. Serve chilled, with orange juice (or pineapple juice or sparkling water). 
Store in a dry place and away from light.
Possible traces of nuts, gluten, mustard, sesame, milk, sulfites, soy.