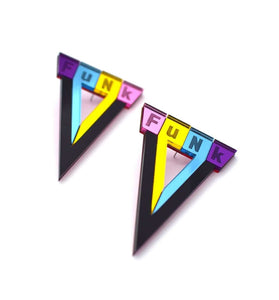 Funky soul A colorful soul is an open mind soul! A black triagnle which have a colorful line of purple, light blue, yellow and pink mirror. This line ends and forms an other triangle. The worlds needs more funky souls! Be one!
Information: Handmade plexiglass earrings Hypoallergenic stainless steel stud (nikel free) Dimensions: 4,5x8,6 cm Weight: 9 gr 
Care: The use of alcohol is prohibited, such as ethanol, perfume, baby wipes etc. Clean them with a cloth!