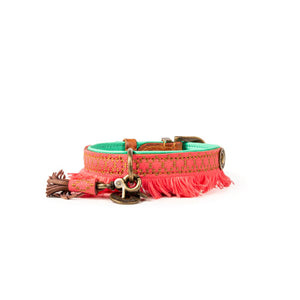 The pink with brown Holly is the striking winner from the Forrest Hill collection. High quality, amazing finishing, and all the coolness we could find in autumn colours, that's the Forrest Hill collection! This amazing collar only has one downside, you'll always be underdressed next to your stylish doggo.
The Holly is finished with a special buckle, matching studs and fringe trim design. You won't find anything like it.
How do you maintain a DWAM product?
The leather surface can easily be treated with saddle grease, the fabric surface with green soap.
With our beautiful leashes you will always look great. All our exclusive leashes are solidly made and of a robust quality. They are handmade and therefore all cheeked for quality. To be able to offer each dog and dog owner something beautiful, we have chosen to offer many different designs.