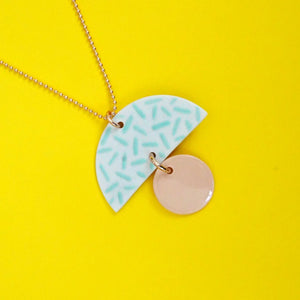 Dutch designer Renske Versluijs has a love for materials, shapes, colours and patterns. Her collections are an ode to craftsmanship. The minimalistic designs with their characteristic playful details are made to bring joy to the person wearing it. The diversity of materials like porcelain, vegetable tanned leather, silver and wood make for a unique collection of accessories and jewelry. 
The necklace 'Leona' has a handmade porcelain hanger and comes with a high quality rosé gold necklace. We will ship it to you in a colourful gift box!
size hanger: 6 x  5,5 cm
size necklace: 50 cm
materials: porcelain and rosé gold plated silver
Did you know that the name Leona comes from the famous late 19th century circus artist Leona Dare? She thrilled her audiences by hanging from the bottom of a hot air balloon by her teeth.